99969
99993
99988
99989
99994
99990
99995
99996
99991
99987
99984
99981
99990
99992
99993
99993
99995
99993
99995
99992
99990
99998
99994
99993
99995
99996
99995
99991
99996
99994
99993
99993
99985
99986
99980
99981
99994
99991
99991
99994
99983
99996
99998
99995
99990
99994
99994
99991
99994
99997
99999
99997
99979
99998
99997
99999
99990
99994
99995
99994
99992
99996
99995
99993
99996
99997
99992
99988
99998
99999
99999
99998
99996
99998
99994
99994
99997
99999
99997
99998
99995
99997
99988
99995
99998
99996
99997
99995
99983
99996
99995
99996
99993
99995
99994
99997

Wave Clip in Hair Extensions Wigs
Mixed Brown / 14inches - $29.99
Mixed Brown / 14inches - $29.99
Mixed Brown / 16inches - $29.99
Mixed Brown / 18inches - $29.99
Mixed Brown / 22inches - $29.99
Light Brown / 14inches - $29.99
Light Brown / 16inches - $29.99
Light Brown / 18inches - $29.99
Light Brown / 22inches - $29.99
Ash Brown / 14inches - $29.99
Ash Brown / 16inches - $29.99
Ash Brown / 18inches - $29.99
Ash Brown / 22inches - $29.99
MEDIUM BROWN / 14inches - $29.99
MEDIUM BROWN / 16inches - $29.99
MEDIUM BROWN / 18inches - $29.99
MEDIUM BROWN / 22inches - $29.99
Brown to Golden / 14inches - $29.99
Brown to Golden / 16inches - $29.99
Brown to Golden / 18inches - $29.99
Brown to Golden / 22inches - $29.99
LIGHT GOLDEN BROWN / 14inches - $29.99
LIGHT GOLDEN BROWN / 16inches - $29.99
LIGHT GOLDEN BROWN / 18inches - $29.99
LIGHT GOLDEN BROWN / 22inches - $29.99
Highlighted / 14inches - $29.99
Highlighted / 16inches - $29.99
Highlighted / 18inches - $29.99
Highlighted / 22inches - $29.99
Chestnut Brown / 14inches - $29.99
Chestnut Brown / 16inches - $29.99
Chestnut Brown / 18inches - $29.99
Chestnut Brown / 22inches - $29.99
DARK BROWN / 14inches - $29.99
DARK BROWN / 16inches - $29.99
DARK BROWN / 18inches - $29.99
DARK BROWN / 22inches - $29.99
Dirty Blonde / 14inches - $29.99
Dirty Blonde / 16inches - $29.99
Dirty Blonde / 18inches - $29.99
Dirty Blonde / 22inches - $29.99
Platinum Blonde / 14inches - $29.99
Platinum Blonde / 16inches - $29.99
Platinum Blonde / 18inches - $29.99
Platinum Blonde / 22inches - $29.99
Ash Blonde / 14inches - $29.99
Ash Blonde / 16inches - $29.99
Ash Blonde / 18inches - $29.99
Ash Blonde / 22inches - $29.99
LIGHT SANDY BLONDE / 14inches - $29.99
LIGHT SANDY BLONDE / 16inches - $29.99
LIGHT SANDY BLONDE / 18inches - $29.99
LIGHT SANDY BLONDE / 22inches - $29.99
CALIFORNIA BLONDE / 14inches - $29.99
CALIFORNIA BLONDE / 16inches - $29.99
CALIFORNIA BLONDE / 18inches - $29.99
CALIFORNIA BLONDE / 22inches - $29.99
honey blonde / 14inches - $29.99
honey blonde / 16inches - $29.99
honey blonde / 18inches - $29.99
honey blonde / 22inches - $29.99
Brown black / 14inches - $29.99
Brown black / 16inches - $29.99
Brown black / 18inches - $29.99
Brown black / 22inches - $29.99
OFF black / 14inches - $29.99
OFF black / 16inches - $29.99
OFF black / 18inches - $29.99
OFF black / 22inches - $29.99
black to Ash Blonde / 14inches - $29.99
black to Ash Blonde / 16inches - $29.99
black to Ash Blonde / 18inches - $29.99
black to Ash Blonde / 22inches - $29.99
Auburn / 14inches - $29.99
Auburn / 16inches - $29.99
Auburn / 18inches - $29.99
Auburn / 22inches - $29.99
GOLDEN AUBURN / 14inches - $29.99
GOLDEN AUBURN / 16inches - $29.99
GOLDEN AUBURN / 18inches - $29.99
GOLDEN AUBURN / 22inches - $29.99
DARK AUBURN / 14inches - $29.99
DARK AUBURN / 16inches - $29.99
DARK AUBURN / 18inches - $29.99
DARK AUBURN / 22inches - $29.99
WINE AUBURN / 14inches - $29.99
WINE AUBURN / 16inches - $29.99
WINE AUBURN / 18inches - $29.99
WINE AUBURN / 22inches - $29.99
Silver Gray / 14inches - $29.99
Silver Gray / 16inches - $29.99
Silver Gray / 18inches - $29.99
Silver Gray / 22inches - $29.99
Salt & Pepper / 14inches - $29.99
Salt & Pepper / 16inches - $29.99
Salt & Pepper / 18inches - $29.99
Salt & Pepper / 22inches - $29.99
SPECIFICATION
Hair Extension Type: Curly Hair
Material: 100% Japanese Heat-resisting synthetic fiber Natural Hair
Texture: Fashional Style Wigs High quality, Easy use, tangle free, silky soft
Hair Color: Natural Black Dark Black Rose Red Light Brown Ash Blonde Sandy Blonde Mix Bleach Blonde Sliver Grey and So on.
Stylist:Extensions

Unit Weight: 185g/Lot
Hair Length: 14 / 16 / 18 / 22 inch
Features: Clips in (2 Clips)
Quality: High quality, Easy use, tangle free, silky soft
Hair Life: 1-3months (Depends on use and care)
Color Description:
 Don't be afraid to go a shade lighter or darker than your hair, take into consideration your hair coloring at its roots and ends, along with any highlights! Have fun with it!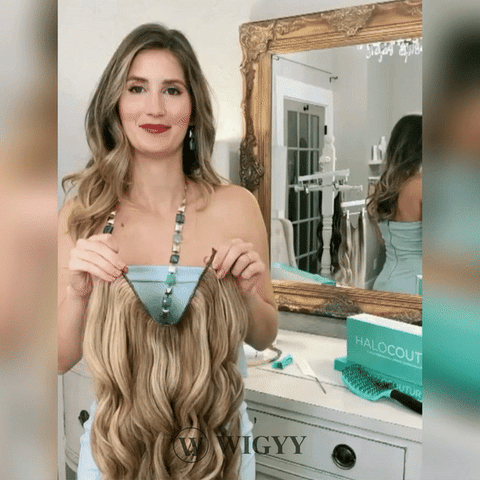 Hair Extensions Care
Just need a little mild shampoo and hair conditioner then washing them in lukewarm water, then setting them on a flat towel, and let them naturally dry.
Use good quality shampoo and conditioning products.
Conditioning your hair is very important to keep it soft and manageable, so use leave-in conditioners.
You could use gel or hair spray to keep the curls in place, but make sure to wash your hair and not leave in these products for a long time.
Olive oil will be a good choice to keep the hair healthy.
This curly texture dries with a beautiful slight wave, and flat irons like a dream, and blends seamlessly with most hair textures. With proper maintenance, this hair will last a year plus.
Tangle-free, Silky, Softy, Very Smooth
Especially suitable for thin, middle, or slightly thick hairs to add length & volume
Easy to wash and care for these straight hair extensions.
Just need a little mild shampoo and washing in warm water
Restyle it into your favorite hairstyle.
Specifications
| | |
| --- | --- |
| Gender | Female |
| Material | Synthetic |
| Age Group | Adult |
| Brand | Wigyy |
Shipping Policy
Country
Order Amount
Shipping Fee
Shipping time
United States
Over $59
Free 
7 - 20 Business Days
Under $59
$6.99 
7 - 20 Business Days
Others

Over $59

Free 
10 - 25 Business Days
Under $59
$6.99 
Notes:
1) Shipping Time does not include a 2-5 days processing period required to process your order from the date your order is placed. 
2) Our products are produced in Vietnam, China, Korea and so on,
all our products are shipping directly by our factories
. So it may take more than 10 days of long international transportation.
3) We will make every effort to deliver your package ASAP. However, additional time may be required due to invalid addresses and custom clearance issues.
4) Should your package not arrive within 30 days after you have placed your order, you must contact Customer Support within 30 days after your order was placed.
Return & Refund Policy
We hope you love what you've ordered! But just in case you're not 100% satisfied, we've made the return process super easy.
How long do I have before making a return, and do I have to pay for shipping?
Because everyone has been asked to stay at home, we want to do our part to help. For all orders placed after February 1, 2020, the return window has been extended from 45 days to 60 days.
1. You have a max of 
60 days
to make returns. You must send back and postmark your return packages within
60 days
after the purchase date. No returns made after 
60 days
from the purchase date will be accepted.
2.Shipping Fee: The product arrive damaged, different, or not working, Wigyy.com will offer the return&exchange shipping fee. If the customer needs to return&exchange the product with personal issues, the customer need to offer the return shipping fee. 
What should I do if I need to request a return&exchange?
To initiate a return&exchange, please contact our customer service team (service@wigyy.com) for an assessment. Upon approval, the return address will be emailed to you. Please note, items must be shipped back to the address provided by customer service, NOT the address on your original delivery.
How will I receive my refund?
Refunds will be processed within 7 days after we receive your package. The refund will be issued to your original payment account, as per your request.
Important Notice:
1. Please do not send your return to the sender's address on your package. This is not the return address and will affect the processing of your return. You should only send it to the address
provided by our customer service.
2. Please make sure you don't include non-Wigyy.com items by accident in your return package. We will not be responsible for sending back those items to you.
NOTE:
If you have any issues with your return, you can contact Customer Support 
service@wigyy.com